HALO MALL » 343 Industries, Breaking Game News, Halo 4, Halo: Reach » Ryan Payton, Halo 4 Creative Director at 343i Walks
A Creative Director, Ryan Payton has left 343 Industries. He one of the many creative directors working on 343 Industries' Halo 4.saying he wasn't "creatively excited" about the title anymore then adding that "The Halo I wanted to build was fundamentally different and I don't think I had built enough credibility to see such a crazy endeavor through,". Saying the game had become a "crazy endeavour", in our opinion means nothing. After all remember Luke Timmins comments during the Bungie's alpha days for Reach and the ViDocs released the term "..crazy sausage.." was thrown around to emphasize how crazy the work was. We wish Ryan the best of luck but feel that this will not affect the success of the Halo 4 trilogy 343i started.
Filed under: 343 Industries, Breaking Game News, Halo 4, Halo: Reach · Tags: 343 Industries, Bungie, Crazy, Halo, Halo 4, Luke Timmins, Ryan Payton, sausage, Trilogy
ADVERTISEMENT
Designed to offer a tactical advantage when playing first person shooters, the FPS Pro Game Pad features two newly refined Combat Buttons located on the rear of the gamepad allowing for on-the-fly custom remapping. With a choice of nine pre-set modes, gamers can use the Combat Button to re-map Action Button or ThumbStick commands, empowering players to shift melee or sprint to the rear buttons in order to maintain full motion control of the analog sticks. Dominate first-person shooters with Mad Catz' FPS Pro for the Xbox 360. An LED resides beneath each analog stick to provide immersive backlighting, and each can be independently adjusted to glow green, orange, or red. With a 9.8 foot cable to ensure lag-free gameplay, vibration feedback technology to feel all the action, plus ergonomic non-slip grips for extended gaming sessions, the FPS Pro is the weapon of choice for all fans of first person shooters.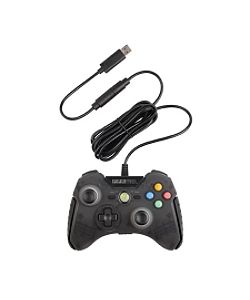 Price: $39.99