HALO MALL » Contests, Game Stats, Halo Waypoint, Halo: Reach » HaloChallenges Flawless Firefight
From Halo WayPoint Challenges and NEWS
"This week HaloChallenges.com launched a brand new series of challenges to kick off the sites venture into the realm of Halo: Reach Firefight!The concept behind this series is quite simple: play Firefight in the Score Attack playlist of Matchmaking on Xbox LIVE and earn the required number of kills for each gametype listed in the challenge objectives. Oh yeah, there's one very important goal on these challenges—"
"DON'T DIE!Welcome to Flawless Firefight! A new series of challenges designed specifically to test your claim to Hyper Lethal status. The series has been divided up into smaller sets of challenges that are specific to each Firefight map. Each map set contains nine distinct challenge objectives that consist of eight gametypes to be played on each map. Of course, we've included an objective requiring the completion of the entire map set. For those of you that require extensive (perhaps excessive) use of your smart phones calculator app, we'll spare you the brain strain… nine maps each with nine distinct challenge objectives gives us a grand total of 81 Firefight challenges. If you think the Covenant forces on heroic Firefight are a pushover, we're formally inviting you to prove it. HaloChallenges' Flawless Firefight is LIVE!So you think you're good at Halo: Reach Firefight? Set, Start…" – Source: HaloWaypoint
But here are the Maps:
Filed under: Contests, Game Stats, Halo Waypoint, Halo: Reach · Tags: Firefight, Halo, Halo Waypoint, Halo: Reach, HaloChallenges
ADVERTISEMENT
Designed to offer a tactical advantage when playing first person shooters, the FPS Pro Game Pad features two newly refined Combat Buttons located on the rear of the gamepad allowing for on-the-fly custom remapping. With a choice of nine pre-set modes, gamers can use the Combat Button to re-map Action Button or ThumbStick commands, empowering players to shift melee or sprint to the rear buttons in order to maintain full motion control of the analog sticks. Dominate first-person shooters with Mad Catz' FPS Pro for the Xbox 360. An LED resides beneath each analog stick to provide immersive backlighting, and each can be independently adjusted to glow green, orange, or red. With a 9.8 foot cable to ensure lag-free gameplay, vibration feedback technology to feel all the action, plus ergonomic non-slip grips for extended gaming sessions, the FPS Pro is the weapon of choice for all fans of first person shooters.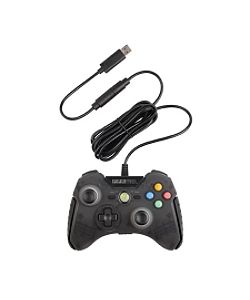 Price: $39.99