HALO MALL » Halo 4 » Halo4 Beta….not!!
Release date Focus, Focus, Focus might be the agenda for the 343 team. A team who will not to provide a beta for Halo 4, something we die hard fans need. In case you didn't know, Halo4 is the first installment of the 'Reclaimer Trilogy', reviving the Halo Master Chief saga, due out this holiday season 2012.
But perhaps its just too darn expensive to plan and release a beta along with the game a month or so a later. Perhaps Electronic arts should have take a lesson from this learning that Battlefield 3 (great game we love it) Beta was more like an Alpha and the bug fixes are still being applied, so things may have been affected by the beta. But honestly no affect on the game enjoyment itself.
A quote from 343 "While we are testing Halo 4 code, gameplay, and systems at significant scale to get excellent data, input, and feedback, we are focused on polishing and shipping our experience for the duration of the year, and splitting resources to manage and build a beta is not on our schedule,".
Quality first from internal resources only and no customer feedback. Hmmmm…. sounds like a Microsoft plan… Bungie was a different company.
ADVERTISEMENT
Designed to offer a tactical advantage when playing first person shooters, the FPS Pro Game Pad features two newly refined Combat Buttons located on the rear of the gamepad allowing for on-the-fly custom remapping. With a choice of nine pre-set modes, gamers can use the Combat Button to re-map Action Button or ThumbStick commands, empowering players to shift melee or sprint to the rear buttons in order to maintain full motion control of the analog sticks. Dominate first-person shooters with Mad Catz' FPS Pro for the Xbox 360. An LED resides beneath each analog stick to provide immersive backlighting, and each can be independently adjusted to glow green, orange, or red. With a 9.8 foot cable to ensure lag-free gameplay, vibration feedback technology to feel all the action, plus ergonomic non-slip grips for extended gaming sessions, the FPS Pro is the weapon of choice for all fans of first person shooters.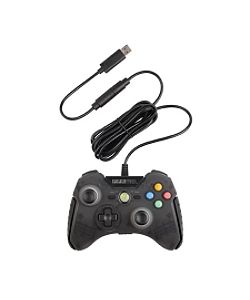 Price: $39.99