HALO MALL » Kinect » Get Evoluce Kinect Windows SDK before Microsoft's
Kinect now has the capability to provide applications in business and the home that may go way beyond the gaming experience offered via the XBOX.   Since announcing the SDK for Windows 7 Microsoft has been busy finalizing a version to be released soon.   We see many applications for Kinect but one of the best applications for the device (besides gaming of course is education).
We wrote about the recent publishing of the Kinect SDK and how its being used for more than video gaming.   Recently there was a contest established to offer Education k-12 opportunities to use the Kinect SDK.   The best applications would get $500 or more in Cash prizes.   Read more at about it on our post Kinect Education Contest and the Kinect SDK.  Microsoft's Kinect SDK is supposedly being released in early 2012.
A German company Evoluce who has been experimenting with the Kinect to create movement-based user interfaces for the home or office.     Evoluce's Kinect SDK is now available for download, but a commercial version the SDK will be released further down the road.
Forget ID cards walk into your office smile and wave to a Kinect device and you'll pass security! Well…. watch below to see a promo from Evoluce.
Filed under: Kinect · Tags: Evoluce, Kinect SDK, Windows
ADVERTISEMENT
Designed to offer a tactical advantage when playing first person shooters, the FPS Pro Game Pad features two newly refined Combat Buttons located on the rear of the gamepad allowing for on-the-fly custom remapping. With a choice of nine pre-set modes, gamers can use the Combat Button to re-map Action Button or ThumbStick commands, empowering players to shift melee or sprint to the rear buttons in order to maintain full motion control of the analog sticks. Dominate first-person shooters with Mad Catz' FPS Pro for the Xbox 360. An LED resides beneath each analog stick to provide immersive backlighting, and each can be independently adjusted to glow green, orange, or red. With a 9.8 foot cable to ensure lag-free gameplay, vibration feedback technology to feel all the action, plus ergonomic non-slip grips for extended gaming sessions, the FPS Pro is the weapon of choice for all fans of first person shooters.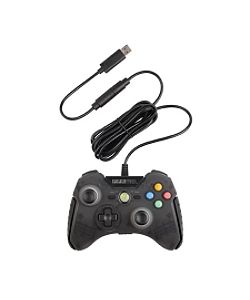 Price: $39.99