Halo 3: ODST (changed from Halo 3: Recon originally)
Released Last year 2009 this is an incredible addition to the Halo Genre of games. The  Bungie acronym ODST title that means Orbital Drop Shock Troopers. You play as several of these aggressive ODST Marines fighting the alien enemies in a world devastated by the covenant.
Connection to Halo: Reach
As promoted by Microsoft and Bungie the only way you'll get to play Halo: Reach Beta is if you have a copy of Halo: ODST in your possession. For Die hard fans of Halo this means you already have ODST and this is not a problem, for others I guess you can rent it and see what happens on Live. I am sure however that GameFly will be short May 3rd so rent it soon.
The new viDoc and just published Multi-Player video release shows that that Halo: Reach is a lot like Halo 3 and Halo: ODST Fire Fights.  With New Weapons.
ADVERTISEMENT
Designed to offer a tactical advantage when playing first person shooters, the FPS Pro Game Pad features two newly refined Combat Buttons located on the rear of the gamepad allowing for on-the-fly custom remapping. With a choice of nine pre-set modes, gamers can use the Combat Button to re-map Action Button or ThumbStick commands, empowering players to shift melee or sprint to the rear buttons in order to maintain full motion control of the analog sticks. Dominate first-person shooters with Mad Catz' FPS Pro for the Xbox 360. An LED resides beneath each analog stick to provide immersive backlighting, and each can be independently adjusted to glow green, orange, or red. With a 9.8 foot cable to ensure lag-free gameplay, vibration feedback technology to feel all the action, plus ergonomic non-slip grips for extended gaming sessions, the FPS Pro is the weapon of choice for all fans of first person shooters.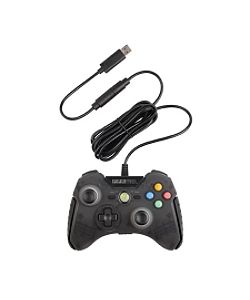 Price: $39.99