3/2010 – Its Confirmed ! Halo 2 Players get Halo:Reach Beta!
Rumors abound, that are now certified true, on the Bungie Boards that Players of Halo 2 XBOX Live will receive access keys to Halo: Reach Beta; 400 MS points; and 3 Mos Free XBOX Live membership.  Wow!! Bungie and MS's e-mails sent out to active and apparently not so active players indicates that this is the consolation for "dedicated playing", IMHO, for one of the best games ever released!  All of those not so rabid Halo players who thought to save money by not possesing  ODST for the beta may be saved!  (At this point we think you will need ODST);
Here is the e-mail we received:
Xbox LIVE System Maintenance
On April 15, 2010, we will discontinue the Xbox LIVE service for
original Xbox games playable on Xbox v1 and Xbox 360. In our
continuing efforts to evolve the service, we need to make changes to
the LIVE service that are not compatible with original Xbox v1 games.
What does this change mean for you?
- It does not affect your ability to play original Xbox v1 games
offline, but does remove LIVE connectivity and support for online
multiplayer, leader boards, and other online features of these
games.
- We realize that you are an avid Halo 2 fan. Unfortunately, with
this change, you will not be able to play Halo 2 on Xbox LIVE
going forward.
- Although it is difficult to say goodbye to Halo 2, the Halo
franchise continues as the benchmark for multiplayer gaming in
this generation with Halo 3, Halo 3: ODST, and soon Halo: Reach.
On the Xbox 360, you will continue to have access to the LIVE
service where you can enjoy hundreds of other LIVE-enabled games.
When will this change take effect?
- April 15, 2010.
What is Xbox LIVE doing for me?
- To thank you for being a loyal Xbox LIVE customer, we are giving
you a free, three-month LIVE Gold membership and 400 Microsoft
Points for you to use as you choose on Xbox LIVE.
- In addition, because you've been so loyal to Halo, we are inviting
you to participate in the exclusive Halo: Reach Beta.
How do I get these offers?
- You will receive a token for 400 MS points. Check your Xbox LIVE
account messages on the console. These points can be used for 365 days
after you activate your token.
- We are extending your Gold membership by three months
automatically. The extension will be directly reflected in your
LIVE account.
- Finally, as the beta gets closer, you will receive an e-mail
containing the code granting you access to the exclusive Halo:
Reach Beta.
Thank you for being a loyal Xbox LIVE member. If you have any
questions or for more information, please visit:
http://email.xbox.com
The Xbox LIVE Team
Halo 2 History -TBA
Breaking News!  HALO 2 is DEAD!
1/2010 – Legacy Halo Games will no longer be supported on XBOX Live.  No more DeathMatches!.
ADVERTISEMENT
Designed to offer a tactical advantage when playing first person shooters, the FPS Pro Game Pad features two newly refined Combat Buttons located on the rear of the gamepad allowing for on-the-fly custom remapping. With a choice of nine pre-set modes, gamers can use the Combat Button to re-map Action Button or ThumbStick commands, empowering players to shift melee or sprint to the rear buttons in order to maintain full motion control of the analog sticks. Dominate first-person shooters with Mad Catz' FPS Pro for the Xbox 360. An LED resides beneath each analog stick to provide immersive backlighting, and each can be independently adjusted to glow green, orange, or red. With a 9.8 foot cable to ensure lag-free gameplay, vibration feedback technology to feel all the action, plus ergonomic non-slip grips for extended gaming sessions, the FPS Pro is the weapon of choice for all fans of first person shooters.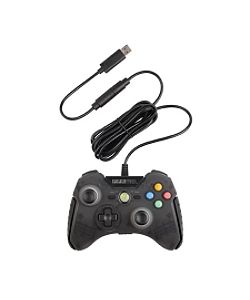 Price: $39.99